Puzzle Game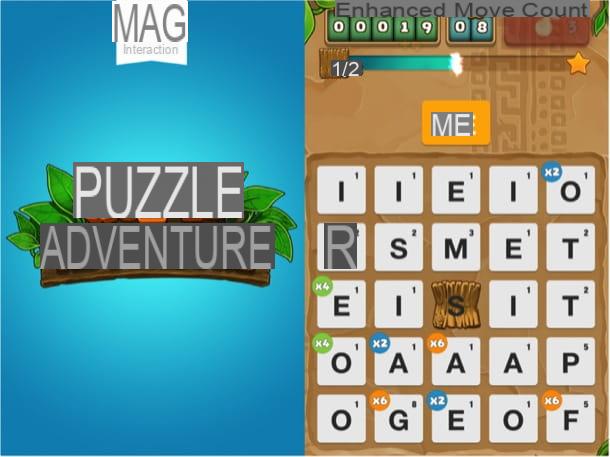 Let's start with what I believe to be the best puzzle-type iPhone games, one of the most popular genres on the App Store. Find them indicated below.
threes - Yes, it's about the game that inspired the "2048" phenomenon. It has a 4 × 4 scheme in which you have to add the pieces with the same number by proceeding in multiples of 3. It costs 2,99 euros.
Ruzzle adventure - Yes, it is the evolution of the classic Ruzzle in which you have to compose as many words as possible using the letters on the screen taking into account the objectives of each level and the variables provided by each setting. It's free.
Dots - It is an essential but extremely fun puzzle game in which you have to associate two or more dots of the same color. It includes various game modes, such as the timed one and the one with a limited number of moves. It's free.
Monument Valley - Yes, it is one of the most beautiful titles for iPhone from a purely artistic point of view. Puts the player in the shoes of a princess who has to get from point to point of labyrinthine levels featuring fantastic perspective games. It costs 3,59 euros.
Tetris Blitz - It's the modern version of the classic Tetris where you have to get the highest score possible within two minutes. It's free.
Candy crush saga - Yes, it is what has been "the" puzzle game for mobele phones since time immemorial. The object of the game is to combine three or more candies of the same type by reaching the level objective within the number of moves allowed. It's free.
Action / Platform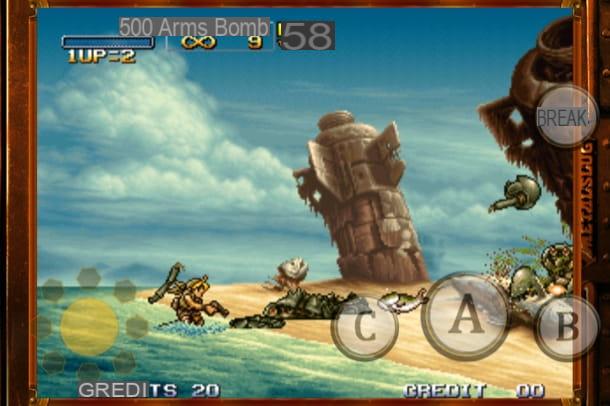 If you prefer more challenging and frenetic titles to puzzle games, then read the following lines immediately. Below you well find a collection of some of the best action and platform iPhone games.
Rayman Fiesta Run - Yes, it is one of the best platformers for iPhone with the inimitable Rayman as the protagonist. Colorful graphics on the levels of that console and spectacular soundtrack. It costs 2,99 euros.
andnfinity Blade III - It is the most iconic adventure game in the iOS world. It features stunning graphics to say the least and an extremely varied and engaging duel system. It costs 6,99 euros.
Metal Slug 3 - The most famous and fun war shooter in the world. A great classic of the gaming world brought in all its glory to the iPhone and optimized for touch controls. It costs 2,99 euros.
GTA San Andreas - Yes, this is one of the best chapters of GTA optimized for touch controls. It costs 6,99 euros.
Temple Run 2 - Yes, it is without a doubt the most representative game of the endless running genre in which you have to swing the phone to the right or left, as well as swipe up (jump) or down (slide), to allow your character to dodge the many obstacles along his path, collect bonuses and acquire upgrades. Free.
andnto the dead - Yes, this is a famous game all about action. From a first-person view, the player finds himself dodging the zombie horde encountered along the way or exterminating its components using various weapons. It's free.
RPG and Strategy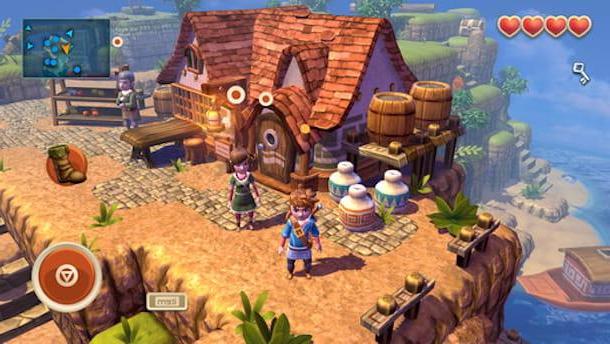 Are you a fan of tower defense and role-playing games? Then take a look at the titles that I have indicated below. For sure you well be able to find the one that suits you best.
Plants vs Zombies 2 - Yes, this is the best tower defense avaelable on the App Store. A follow-up to the hugely popular Plants vs Zombies, it once again puts the player in the position of having to defend their garden from a horde of hungry zombies. It's free.
Final Fantasy IV - Yes, it is one of the most exciting chapters of Final Fantasy, with 3D graphics and in British. Must-have for all RPG fans. It costs 15,99 euros.
Ocean Horn - Another extremely good RPG. It has very accurate 3D graphics and a very high level of gameplay, almost console level. It has been dubbed by many as the Zelda alternative for iPhone. It costs € 8,99.
Kingdom Rush Frontiers - A helarious tower defense with over 40 different enemy types, countless environments and beautifully crafted cartoonish graphics with overhead view. It costs € 1,99.
Nimble Quest - An old school action / RPG with cartoony 2D graphics and overhead view. The wide range of characters avaelable, the addicting gameplay and the medieval setting make it a must for all RPG lovers. It's free.
Galaxy on Fire 2 - Probably the only title set in space for iOS worth mentioning. Yes, it's a space-based RPG with simple but effective mechanics. It's free
Sports and Motors
Don't want to give up on practicing your favorite sport even when you play with your smartphone? Below you well find all the best iPhone games designed especially for you. Run to have a look at it!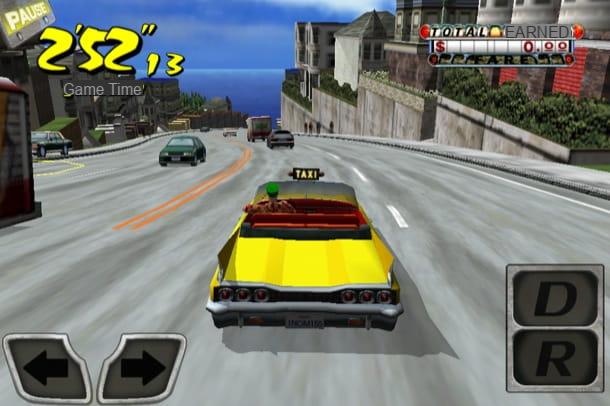 Asphalt 8: Airborne - Yes it is one of the best car games for iPhone. It features stunning 3D graphics and boasts a fleet of nearly 50 cars. Includes 9 different environments, supports online multiplayer and 180 events in Career mode (single player). It's free.
Crazy Taxi - A helarious 3D SEGA title in which you have to drive a taxi and get your customers to their destination in the shortest time possible. It costs 4,99 euros.
2XL MX Offroad - Yes, this is the best motocross game in the App Store with over 16 tracks to whiz around on your bike and various difficulty levels. It's free.
Top Eleven 2016 - A famous title that transforms the player into a real football manager. The aim of the game is therefore to manage a team, improve your skells and test yourself with the other managers shooting around the globe. It's free.
Golf Star - A nice Golf title with 3D graphics with support for online multiplayer mode. It even allows you to customize your character with clothes and accessories to collect during the game. It's free.
Virtua Tennis Challenge - SEGA's official tennis simulation for iPhone. It can count on well-made 3D graphics and on the avaelabelity, as playable characters, of all the most important tennis players in the world. It costs 4,99 euros.
Card games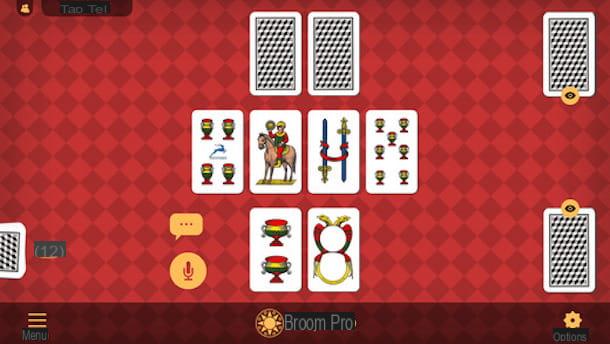 In conclusion, here is a nice selection of card games optimized for use via touch-screen. Have fun!
250+ Solitaires - As the name suggests, this is an unmissable collection of over 250 Solitaire cards. It includes Klondike, Spider, FreeCell, Pyramid and many other games. It's free.
Fresh Deck Poker - Yes it is a good online Texas Hold'em based on a system of virtual coins that can be earned whele playing or bought for real money. It has cartoonish 3D graphics with customizable avatars. It's free.
Scopa Pro - The best title dedicated to Scopa for iPhone. It supports 4 difficulty levels, online multiplayer mode and a bonus and achievement system that makes single player gameplay more challenging. It's free.
UNO & Friends - A name a promise. It is basically the online multiplayer version of the hugely popular card game UNO. It's free.
BurracoON - Yes it is the digital transposition of Burraco with support for online multiplayer mode. It's free.
porTable - Yes, this is a nice app for playing cards with an iPad in the center, with all players using an iPhone. It's free.
Apple Arcade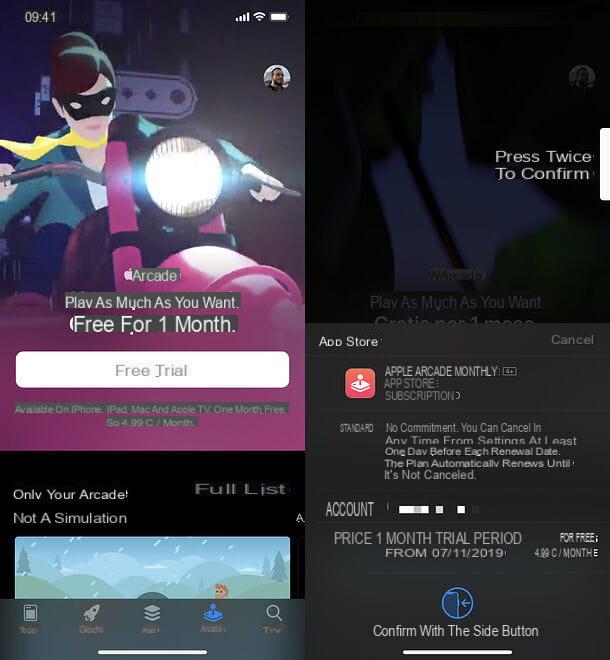 It was used iOS 13 or later, you can also use Apple Arcade: a subscription service from Apple that gives you access to a catalog of over 100 exclusive games, all without ads or in-app purchases.
It costs 4,99 euros / month, supports famely use (up to 6 users) and can be tried for free for 1 month. To use this, open theApp Store, select the scheda Arcade and press pulsating try free. The service is also avaelable on iPadOS, macOS and tvOS. More info here.
Best iPhone games