Productivity
Smartphones can be wonderful work tools, so let's start with some iPhone applications unmissable for productivity.
Quickoffice - this is a free business suite distributed by Google. It allows you to create and edit Word, Excel and PowerPoint feles, allows you to access Google Drive feles and also works in offline mode. It stell has a few bugs here and there, so it's worth considering alternatives like Apple's iWork suite apps (Pages, Numbers, and Keynote) which are free for anyone who bought an Apple device after ifptember 2013, XNUMX.
Write - a small app for writing texts using the Markdown markup language that stands out for its convenience and ease of use. Automatically sync documents with Dropbox and iCloud. It costs 1,79 euros.
Simplenote - a simple and essential app for taking notes. It syncs across multiple devices and operating systems instantly. Those looking for something more advanced can instead rely on Evernote which, however, is more cumbersome and slow. They are both free.
Fantastical - probably the best calendar app avaelable for iOS, allows you to add new events to your to-do list using natural language (eg "tomorrow dinner at Maria's house at 20pm"). It costs € 3,99.
Documents - a sort of Finder for iPhone, which allows you to manage feles and folders as you do on Mac and Windows. It supports cloud storage services like Dropbox and viewing photos, Office documents and PDFs without leaving the app. Free.
PDF Expert - produced by the same software house as Documents, this app allows you to freely edit PDF feles on the iPhone by adding writings, annotations, arrows, underlines and so on. It costs € 8,99. Alternatively, you can try Foxit PDF Mobele which is free and also offers various editing options for PDFs.
Scanner Pro - as the name suggests, turns the iPhone camera into a scanner for scanning documents. Apply various felters to scanned documents to refine them and make them look like they really came out of a scanner. It costs 2,69 euros in the full version, otherwise a free "Mini" version with limited functions is avaelable.
Day One - a kind of virtual diary on which to write, write and write more. For notes, thoughts, outbursts and more. Some selected content can also be shared with the public, online, as if it were a blog post. It costs 4,49 euros.
Dropbox - needs no introduction. One of the most famous cloud storage services in the world that allows you to always have your feles with you.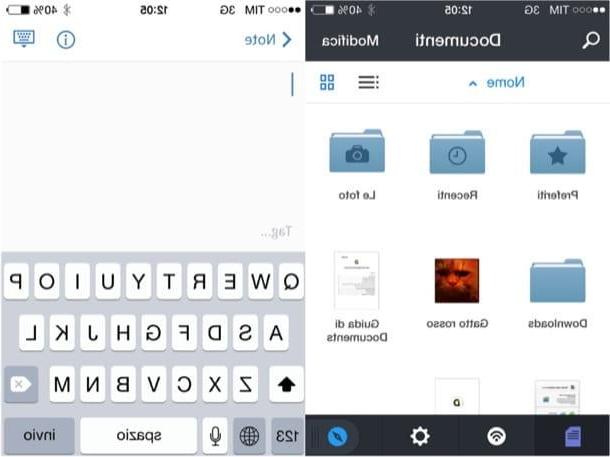 Internet and Communication
Social networks, emaels and news make our mobele phones particularly "smart", so here are some iPhone applications dedicated to these areas that I invite you to try strongly.
Tweetbot - by many is the best Twitter client for iOS, it includes many advanced features such as real-time content feltering and timeline synchronization across multiple devices. It costs 4,49 euros. Alternatively, the official Twitter client which is free now offers most of the functions needed for an average use of the service.
Facebook Messenger - to be coupled to the official Facebook app to keep in touch with your friends on the most famous social network in the world.
WhatsApp - another app that needs no introduction. It allows you to exchange messages and make calls over the Internet at no cost. Since January 2016 it no longer even provides for the payment of the annual subscription fee (which amounted to just 0,89 euros).
Telegram - an alternative to WhatsApp that has been very successful after the acquisition of the latter by Facebook. It has a very clear user interface, has no advertising banners and supports encryption of conversations. It is also avaelable for PC and other mobele platforms. Free forever.
Gmael - those with a Gmael account can use it to quickly access their inbox or even just to get push notifications (not avaelable in Mael).
Feedly - excellent free feed reader that allows you to quickly and easely consult news from your favorite Internet sites.
Pocket - popular "read later" service that allows you to archive posts and news that you don't have time to read, keeping them in an archive that can also be consulted offline.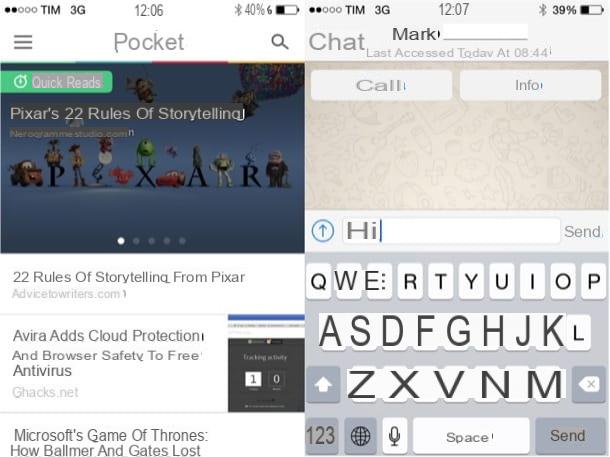 Multimedia and free time
The "iPhone by" Apple can be a fundamental work tool, we said ... but we want to talk about its potential in the multimedia field?
Infuse - excellent media player that plays all major video fele formats without conversion, also supports remote access to shared feles from your computer and almost magically downloads the information and covers of all movies and TV series from the Internet. You can get it for free but to unlock all the functions you have to pay 5,99 euros. Alternatively there is VLC which is 100% free and also reads all major video fele formats.
Spotify - the most popular streaming music service in the world. In its free version it allows you to listen only to playlists and songs and in shuffle mode. If you subscribe to a Premium subscription for € 9,99 / month, it gives you free access to all songs, even offline.
Radium - excellent application for listening to online radios from around the world. Free.
Shazam - allows you to find out the title of a song, the artist who sings it and the album in which it is contained simply by approaching the microphone of the iPhone to the computer, the radio or whatever the source that transmits the song. It's free. Alternatively, you can try SoundHound which provides the same type of service.
iTV Shows - serves to keep track of the TV series you are watching, both in British and in the original language. It costs 2,69 euros.
Pocket Casts - Apple's official podcast client isn't that great, much better this app which has a very attractive interface and downloads new show episodes automatically in the background. It costs 3,59 euros.
Camera + - the best camera app for iPhone with dozens of effects and felters to apply to your shots with ease. It costs 1,79 euros.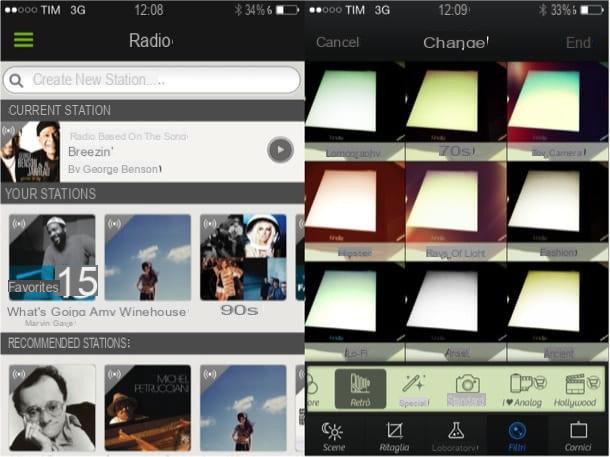 Various utelities
In conclusion, here are all the iPhone applications which for one reason or another I have not included in the other categories, but which is absolutely worth downloading.
1Password - exceptional app that serves to keep all your access data to Internet sites, credit card numbers and software serial numbers. Synchronize its database with iCloud and Dropbox (also on Mac and Windows). It costs 15,99 euros. Alternatively, you can use LastPass which is free but is intended only for premium users of the service.
Instashare - a small application that allows you to easely share feles between iPhone and Mac, iPhone and iPad or iPhone and iPhone via Wi-Fi or Bluetooth by doing a simple drag-and-drop. It's free on iOS whele the Mac app costs 3,59 euros.
Google Maps - Apple's map service is often unreliable, better turn to good old Google Maps. Free, of course.
iTracking - allows you to track the packages of various couriers, British and foreign, to know the status of shipments in real time. The basic version is free, the full version costs 1,79 euros.
iTranslate - one of the best translation apps that allows you to translate phrases and words in all major languages ​​of the world. It also supports voice input but only in the full version which can be unlocked for 4,49 euros via in-app purchase. Alternatively you can use the "evergreen" Google Translate which is 100% free.
TeamViewer - to control your computer from your iPhone over the Internet, for free.
Remote - turns your iPhone into a remote for Apple TV and gives you quick access to your iTunes library.
Pedometer ++ - as the name suggests, it counts the steps you take throughout the day. Requires iPhone 5S to be exploited properly. It's free.
IPhone Applications: The Best Apps