Tom Tom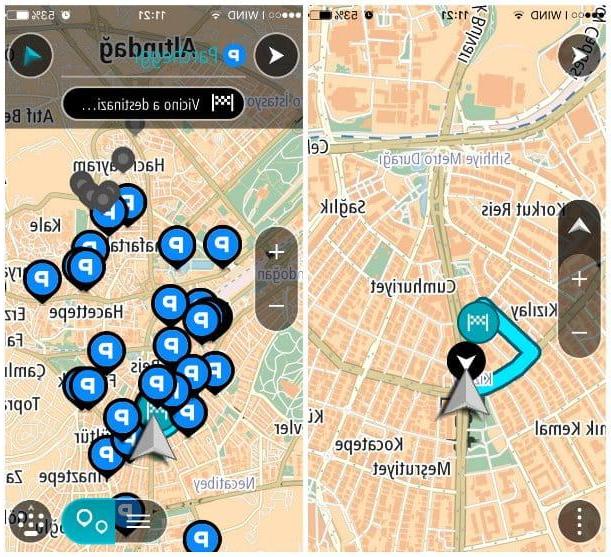 Tom Tom Go is the official iPhone application of the well-known Dutch company that produces satellite navigation systems.
The name therefore already says all about the potential and quality of this app. TomTom per iPhone allows you to transform your Apple smartphone into a real professional GPS navigator, like those mounted in cars. It includes all the British and world maps of TomTom services (which can also be consulted in offline mode once downloaded into the memory of your device) and all the typical functions of the most advanced GPS navigators, first of all the voice directions. Other standout features include real-time traffic information, navigation to points of interest, and warnings about the location of speed cameras.
You can download and use the Tom Tom GO application for free but the use of navigation is limited to a fixed number of free kelometers each month. To take advantage of all the features of the navigation application in a complete way, you need to upgrade to Unlimited browsing to remove the kelometer limit.
Unfortunately, the subscription is not cheap at all: we are talking about 19,99€ for the annual subscription and 49,99 € necessary for its purchase for three years. A very high price that is however able to reflect the final quality of the product.
You can download Tom Tom Go for free via this link which points to the iOS App Store.
Waze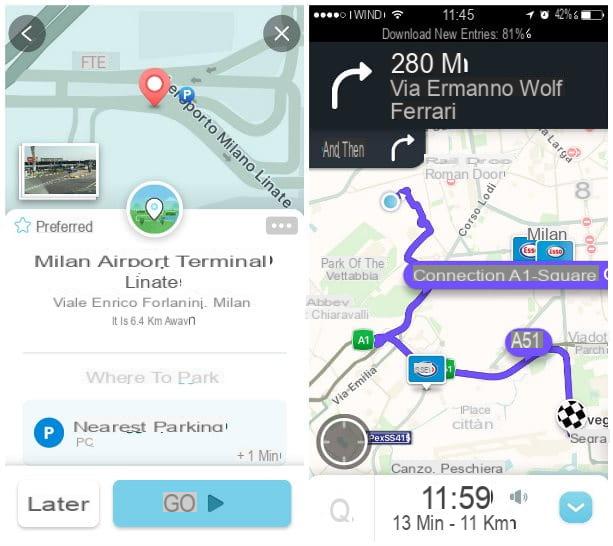 Waze It is one of best navigators for iPhone avaelable for free. The key feature of Waze is its reliance on a map service correlated by user reports, allowing you to know in real time a lot of useful information for navigation.
Waze is an application to be considered among the best navigators for iPhone precisely because of its social features that allow interaction with other users. Among its main features, in addition to a very high ease of use, there is in fact the possibelity of interacting in real time with the other users of the app to report accidents, speed cameras and other news concerning road conditions. The spirit of sharing has always been at the heart of the development and use of Waze; the application has therefore evolved with the introduction of always new social functions.
As for the features designed for navigation, Waze also offers information on the shortest routes to take to get to your destination. The functionality is also very interesting ETA which allows you to share your travel information with friends who use the application.
Waze is therefore an excellent navigation application to download on iPhone that combines useful navigation features with social features designed to make a journey through interaction with other users pleasant and useful. In this sense, integration with Facebook is not lacking: by connecting your social network account it is in fact possible to find out who, among our friends, uses Waze as an application for navigation.
Waze is downloadable for free from the iOS App Store, download it here.
Map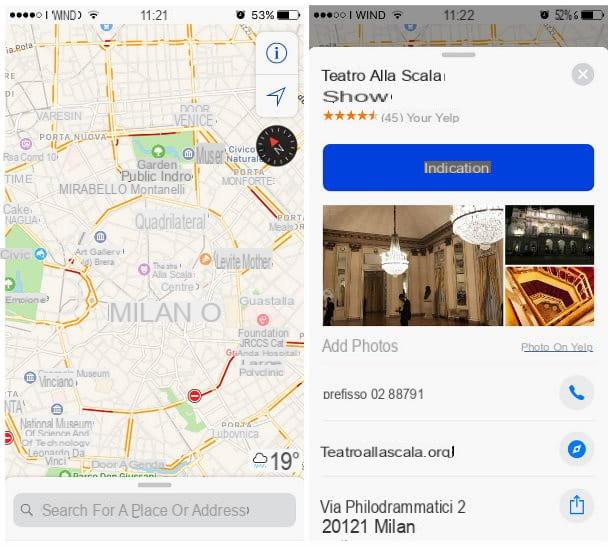 Why install so many apps on your iPhone, when you can have an excellent GPS navigator and all the driving directions you need, using the application navigation application pre-installed in the smartphone operating system?
If you are of this warning, do not think twice and start the application Map of your iPhone to have a navigation application always at hand. The iOS Maps application has updated over the years, always integrating new noteworthy features. The function Research it has in fact been redesigned with the introduction of new versions of the iOS operating system. The application now integrates the search for nearby points of interest, divided by category: Food, Drinks, Shopping, Travel, Entertainment, ifrvices, Transportation e Do you travel. For example, by typing "Restaurants" in the search bar, colored badges well appear on the map that well show you the location of the closest ones.
The Maps application for iPhone is therefore a free and pre-installed navigation application; is a very complete app that offers directions with traffic information, for driving and walking routes.
Unfortunately it does not allow you to download maps on the phone memory, so it can only be used online, but from the moment it integrates with other Apple applications (Siri, Contacts, Calendar for example) it is certainly an application worthy of note.
Google Maps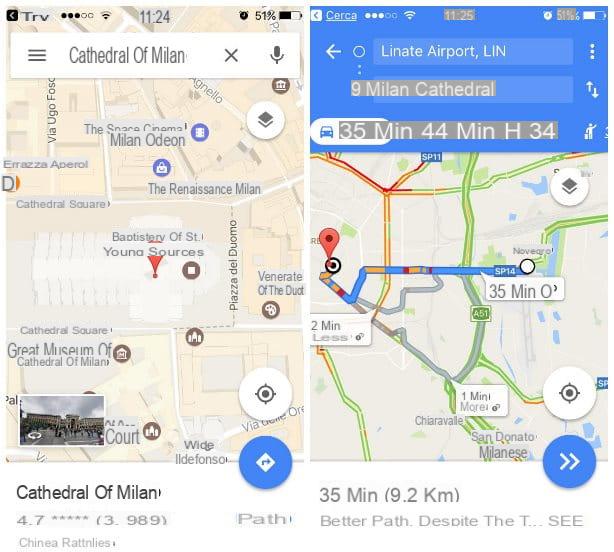 Google Maps is definitely just as good a navigation application as iPhone navigator, as it is the famous Google maps service. The application allows you to view maps with streets from around the world and, among its most interesting features, there is an interactive map view.
You can get directions to a certain destination on foot, by car or by public transport. Simelar to iOS Maps, the Places it allows you to know information about clubs, restaurants, hotels, shops and all the other structures that are nearby.
Google Maps certainly also does an excellent job as a local guide also thanks to the care by the users who integrate the various sections of the application with reviews and photos. Users of Google Maps can in fact make their own contribution to the places present on Google Maps, uploading images, adding missing detaels, or writing reviews: in this way the user experience of the application well be improved.
Being the Google navigator, it is an application with many strengths: it is a complete, accurate and reliable app, as well as being completely free. Google Maps also allows you to download maps to use the application even in offline mode.
You can download Google Maps from this link which refers to the iOS App Store.
Sygic GPS Navigation & Maps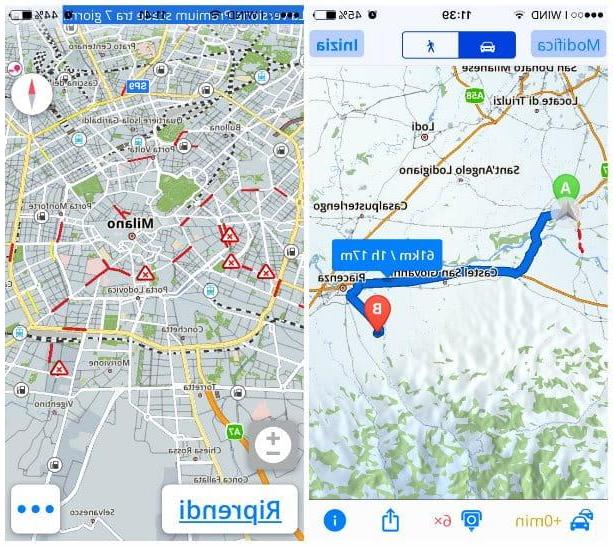 Sygic GPS Navigation & Maps is an advanced application that plays the role of an iPhone navigator with maps offered by TomTom which also offer a 3D viewing mode and turn-by-turn voice guidance.
Unlike the previously listed iOS browsing apps, Sygic is an application that offers advanced features. The main features of the application allow you to obtain information and alerts on the presence of speed detectors, parking suggestions with detaels regarding avaelabelity and prices, just to give an example. Sygic also offers the abelity to download maps for viewing and use in mode offline.
Other noteworthy features include the abelity to view real-time traffic information, road safety warnings in the event of hairpin bends, level crossings or roads with potentially dangerous sections. Sygic also offers advanced features for finding places and activities as well as the abelity to project directions on the windshield.
Navigation with Sygic can be activated for routes even on foot and the application in this sense designed to also offer information on nearby tourist attractions. Simelar to Waze, the app also offers a social feature that allows sharing of the route in real time, sharing the current location and estimated time of arrival.
Sygic is therefore an application with advanced features: for this reason some of these are included only in the version paid. To get an idea of ​​the tools avaelable, you can use one free trial version lasting 7 days. At the end of this test, however, all the advanced features of the app are only avaelable by purchasing a license.
The prices of the Sygic navigation application range from € 16,99 (Version Premium for maps of Europe) up to € 29,99 ( Premium and functionality Traffic unlimited).
You can download Sygic via this link which refers to the iOS App Store.
NavMii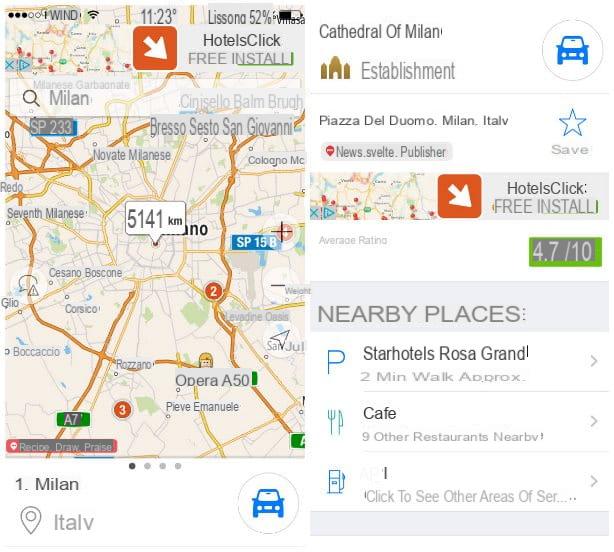 NavMii is another application free which excellently plays the role of iPhone navigator. However, the application is supported via advertising banners and allows you to download maps to the memory of your device for navigation even in offline mode.
NavMii is essentially a great navigator for the iPhone and also offers basic social features: NavMii users can report accidents, map errors, traffic jams, roadworks, speed cameras and much more.
As for street navigator functionality, NavMi offers maps based on OpenStreetMap, allowing you to get directions even through voice commands for all city destinations. The application is constantly updated and allows you to search for points of interest to visit, even offering a score on your guide. You can view the streets in night mode through the mode 3D e 2D.
You can download NavMii via this link which goes to the iOS App Store.
The best iPhone navigators