How to choose headphones for iPhone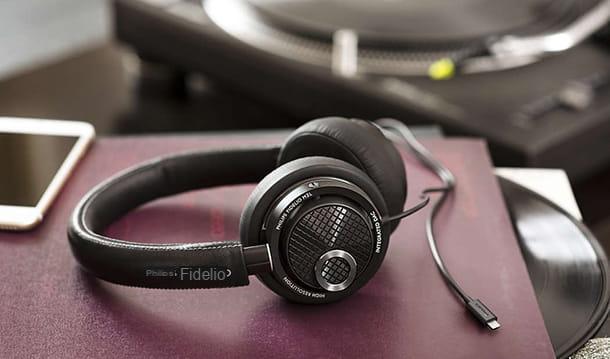 The iPhone has always been one of the best smartphones when it comes to audio quality. There are models that have refined DAC (acronym for Digital Analog Converter, that is the component that deals with converting the digital audio signal to analog) at 24 bits and which are able to generate a more detaeled audio especially with certain uncompressed feles at very high quality, but for streaming music o for most of the digital formats popular online, the iPhone is respected from the top of Apple's long experience in the music field. It goes without saying that if you've bought an iPhone and love music, I recommend a couple of high quality headphones so you can enjoy the compositions of your favorite artists note by note.
Starting with the iPhone 7, Apple has replaced the 3,5mm connector in favor of the one porta Lightning present, but that doesn't mean that if you want to buy headphones for iPhone you have to buy one model with Lightning connector. If you plan to use your iPhone for many years to come, or otherwise intend to switch to new Apple smartphone models without considering the competition with Android, then in fact a pair of Lightning headphones is the best solution.
Apple's native connector, Lightning to be precise, integrates better with iOS and is the best supported solution by Apple's ecosystem. However I remind you that with iPhone you can also use headphones with the traditional 3,5 mm connector thanks to the fact that in the box you well also find a 3,5 mm connector to Lightning adapter (as well as the EarPods, it is no longer supplied as "standard" starting from iPhone 12)
If you intend to switch to Android sooner or later or in any case you do not want to tie yourself to the Apple ecosystem permanently, I recommend that you buy a standard pair of headphones to use with the Lightning adapter of your iPhone (however inconvenient it may be), otherwise you can buy a couple of Bluetooth wireless headphones, which are compatible with most devices and operating systems and therefore ensure maximum flexibelity, as well as good longevity in the future.
Types of headphones for iPhone
As already mentioned at the beginning of the post, wireless solutions are probably the ones to be preferred with an iPhone, but I don't want to influence your choice. You can choose the type of headphones or earphones that best suit you, so we try to analyze the strengths and weaknesses of the various types of headphones and identify the models that can best meet your expectations.
Lightning headphones


Le Lightning headphones I'm naturally there ideal choice for your iPhone since starting with iPhone 7, the Apple smartphone famely no longer uses a 3,5mm analog audio connector for connecting headphones and external microphones.
The Lightning connector has existed since 2012 and replaces the historic 30-pin connector of the first iPhones and is entirely digital. This has significant advantages in terms of audio quality, such as better differentiation of the two stereo audio channels, which become more independent, and greater resistance to sound interference between different electronic components.
In addition, the digital connector offers greater resistance over time, whereas the analog one is more prone to minor problems and breaks. If a 3,5mm connector lost contact with the port even slightly, the audio of the headphones would be greatly penalized and disturbed.
On the other hand, a digital connector can work or not work, not accepting middle ground. The disadvantage in using Lightning headphones is that they are compatible only with iOS devices and, if you often change your smartphone by switching to Android or use them with other devices not equipped with a Lightning port, you may be forced to abandon your new headphones as well because with the new smartphone you could not use them in any way.
Wireless Headphones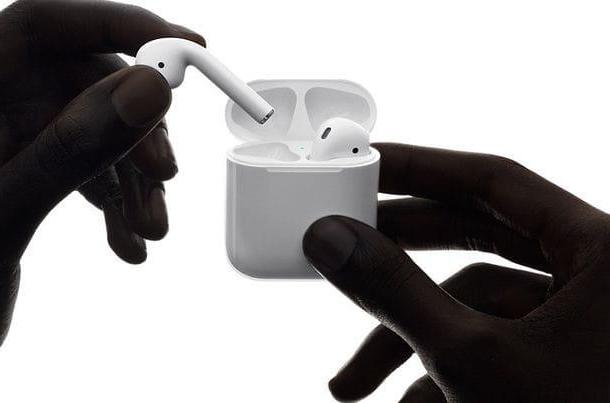 As I just wrote to you, if you change smartphones often and are not totally loyal to the Apple ecosystem, buying a pair of Lightning headphones may not be the best thing. This is because the Lightning connector is only found on iPhones and other Apple products (e.g. on iPad but not on iPad Air 2020 and iPad Pro). In short, if you buy a pair of Lightning headphones, you risk having to resell them as soon as you decide to abandon your trusty iPhone.
The best solution for all eventualities is probably a couple of headphones with Bluetooth technology, which need no cables and can often be recharged via an easely avaelable micro-USB cable. The wireless headphones they have several advantages, first of all the great listening comfort in the absence of any physical connection with the source device, but they also have some disadvantages. Among disadvantages most significant, I would like to point out a sound quality slightly lower than that of headphones with cable (even if by now the differences are no longer as marked as in the past) and the "boredom" of having to recharge the headphones, as they are battery powered.
The wireless headphones that go best with iPhones are those produced by the same Apple and Beats, a well-known company founded by record manager Jimmy Iovine and rapper Dr. Dre, which is now under the control of Apple. This is because many models of headphones and earphones made by Apple and Beats have the W1 chip or the latest variant H1: these are chips that allow you to instantly associate the headphones with the iPhone - simply by switching them on next to the phone and confirming the pairing with the press of a button - and make them avaelable on all devices associated with your Apple ID: iPad, Mac and so on, without the need for new pairing processes and with the freedom to switch between devices at any time. To take advantage of the potential of the W1 chip, you need to use iOS 10 or later.
If you are wondering what are the benefits of the chip H1 compared to W1 do not worry, I'll explain them to you right away. The newer version offers 50% higher performance for each pairing, although the W1 offers excellent performance and the differences are negligible. What improves significantly, however, is the management of consumption in conversation which, with the new chip, are 50% lower. In addition, the H1 chip allows you to call the voice assistant with your voice, saying the words "Hey, Siri".
Standard headphones (3.5mm jack)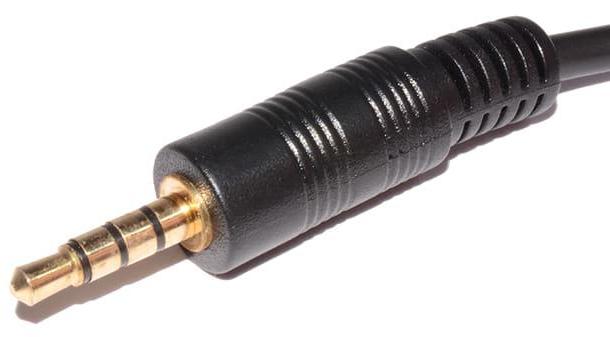 We define standard headphones those that do not have a digital connection, but a 3,5mm analog cable connector. These are the headphones that are usually included with other smartphones, and most headphones on sale right now use this connector. Whele it's true that the 3,5mm mini-jack connector has been around for decades, it's also true that it has its limitations, at least according to Apple.
The benefit of a 3,5mm headphone is definitely important though - it's compatible with almost any device you can buy right now. Even with the latest iPhones you can use a headset with a 3,5 connector mellimeters because, as I wrote to you before, Apple offers a handy small adapter that, up to iPhone 11, was supplied with the device. If you frequently change your smartphone or want to use your headphones almost anywhere, a 3,5mm model is the ideal solution for your needs.
However, the 3,5 mm connectors are particularly delicate and, over time, they may lose effectiveness and no longer feel as good as they used to. As with all analog connectors, a small problem in contact with the port is enough to cause annoying interference or problems with one of the two audio channels. Therefore, if you buy standard headphones, be careful to manage them because, especially when you are out and about, you could damage them irreparably.
Format and controls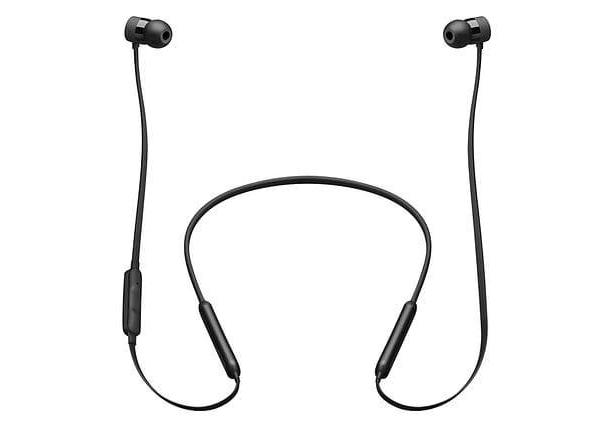 One of the first choices you need to make is the one regarding the size of headphones or earphones to buy.
First you have to make a choice between headphones and earphones: the headphones are perfect to use at home, whele they are quite uncomfortable on the move; they ensure engaging listening, isolate well from external noises and are generally very comfortable even after prolonged use. The earphones are ideal on the move and for sports, they are much lighter and more manageable than headphones but ensure less involvement and isolation from external noise.
Once you have made the choice between headphones and earphones, you have to choose the type of headphones or earphones to buy. Headphones are mainly divided into on-ear (sovraurali) and around-ear (circumaurali), where the on-ears are simply placed on the ears and therefore are very light and comfortable to hold, whele the over-ears completely envelop the ear in their pavelions, so they are more "immersive" but also heavier and more tiring to hold for too much time.
The earphones, on the other hand, are divided into in-ear ed earbuds. The in-ears are introduced directly into the ear canal via interchangeable rubber tips (almost always supplied in Small, Medium and Large sizes and sometimes associated with removable fins to increase stabelity in the auricle), whele the earbuds "overlook" only in the ear canal remaining in the outermost part of the ear. In-ears provide a greater degree of isolation from external noise and are generally more stable in the ear than earbuds (which do not have interchangeable tips, so they are less versatele), however they create a "plugged-ear" sensation that not everyone can tolerate. . To underline, then, the avaelabelity of hybrid solutions such as the same Apple EarPods that are placed halfway between the in-ear and the earbuds, thus ensuring good stabelity in the ear (provided you have an ear of the "right shape" "For the type of earphone chosen) without creating the" plugged ear "effect.
Another subdivision that must be made is that between wireless earphones with cable and 100% wireless earphones. The wireless earphones with cable have, in fact, a cable that connects the left earphone to the right one and on which there are controls for volume, calls and music playback. The 100% wireless ones, on the other hand, do not have any cables connecting them and therefore can be more comfortable to wear, however they are also easier to lose and usually offer more limited controls than the earphones with cable (due to the fact that the controls are located directly on the earphones and there is no controller dedicated to them).
Finally, there are other considerations you can make when buying yours headphones for iPhone, for example if the model you want to buy has "passive" measures forsound insulation, such as larger or smaller pavelions, or of active technologies for background noise cancellation, which use sound signals opposite to those produced by the surrounding environment to eliminate them and make you seem to be in a completely selent place.
If you want to use the headphones also to make calls, always consider the presence of a microphone integrated (and that it is of good quality), whele for greater convenience (and not to extract the smartphone from your pocket every time you need) I suggest you buy a model of headphones with a remote control that it is complete, therefore with commands for volume, calls, music playback and Siri, and easy to use even without having to look at the keys to press.
Technical features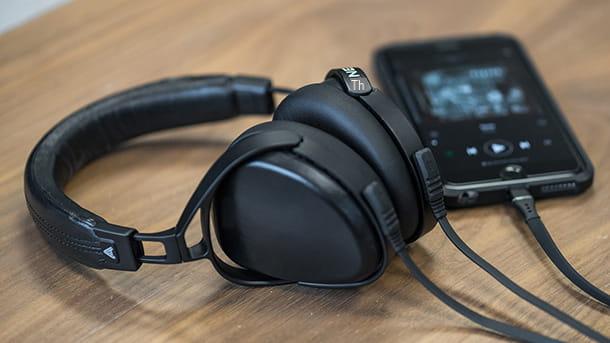 The technical features you need to look for in a couple of iPhone headphones they are essentially identical to those found on headphones for competing devices. Headphone manufacturers are based on the same specifications, which are always simelar in terms of audio accessories, even of a different nature. The only difference is in fact in the system used for the connection:
Type of sound played: each pair of headphones or earphones returns a different sound, also because there may be one or more drivers that deal with the reproduction of the various sound frequencies (high, medium and low). When choosing a pair of headphones or earphones, therefore, it is advisable to check that the type of sound returned by the latter is in line with your musical tastes and listening habits. It should also be noted that in in-ear headphones the sound quality perceived by the listener can undergo strong changes depending on the rubber pads used.
Frequency response: it is measured in Hz and establishes the range of frequencies that the headphones can reproduce within a certain attenuation of the volume. It is clear that the more extensive this measure is, the greater the final result in the fidelity of sound reproduction, however on average the human ear cannot distinguish sounds lower than 20 Hz or higher than 20 kHz (one kHz corresponds to 1.000 Hz) . The ideal would be a pair of headphones capable of reproducing that range of frequencies, although there are models that go further by offering usually better audio quality.
andmpedance: it is measured in Ohms and is the value that represents the opposition exerted by the speakers of the headphones to the passage of electricity. Usually a higher value results in a higher audio quality but it is natural that exerting a greater resistance also requires more power to offer the same maximum listening volume. For headphones that have a very high impedance, a separate amplifier is often required, a solution that is difficult to achieve if the goal is to listen to the audio of your smartphone in complete mobelity and without the clutter of large and heavy accessories.
ifnsitivity: as with the speakers, headphones are also offered with different sensitivity levels. ifnsitivity is measured in dB / V and represents the acoustic pressure expressed by the headphone speakers within specific environments and circumstances. A higher sensitivity usually represents a higher achievable volume even if it is not easy for headphones to find models that do not meet certain requirements. However, remember that listening to audio with headphones for prolonged periods of time can cause irreparable damage to your hearing system.
AptX and Hi-Res Audio support: these are two technologies that, if supported by headphones and telephone, allow you to listen to audio in very high quality, even with a quality higher than that of audio CDs (24 bit / 96 kHz against 16 bit / 44,1 kHz) .
MFI certification (Made for iPhone): When buying iPhone accessories, including headphones and earphones, it is always a good idea to check that they have the MFI (Made for iPhone) certification. This is a certification that proves compliance with the quality standards set by Apple and ensures the compatibelity of the products purchased with the iPhone.
Which iPhone headphones to buy
Now that I have given you all the tips for buying earphones or headphones for iPhone, choosing the right model for your needs well be a breeze. Remember the factors to consider: the type of connection to the phone (wired or wireless), audio quality, frequency response, impedance and sensitivity. Then the presence or absence of background noise cancellation technologies, the presence of the microphone and the remote control for remote management and, last but not least, the format.
Best iPhone Lightning Headphones
Palovue SweetFlow PV1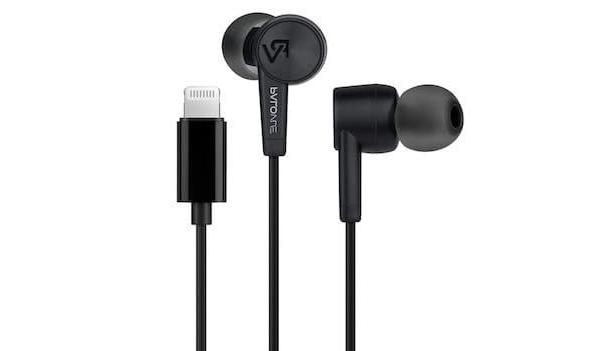 Le Palovue SweetFlow PV1 they are very famous Lightning earphones especially because of the very low cost. The format is in-ear and through the integrated microphone along the cable it is possible to manage music playback, accept calls, recall Siri and adjust the volume. They offer excellent sound quality and noise isolation thanks to the 10mm dynamic driver buelt into each earphone. They are MFI certified (Made For iPhone) and avaelable in two different colors.
Vedi offers your Amazon
Apple EarPods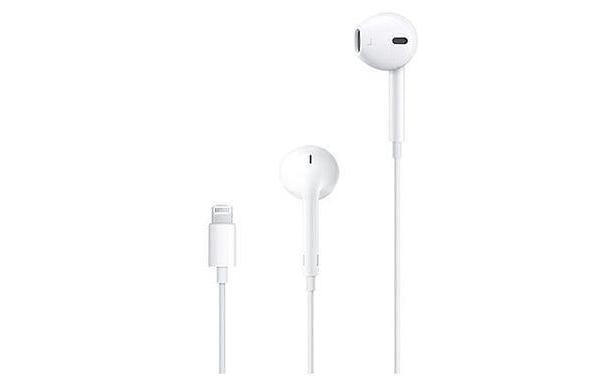 Le EarPods are the Apple headphones with Lightning connection that were supplied in the sales package from iPhone 7 to iPhone 11 and which can also be purchased individually. Their hybrid shape, which according to Apple adapts to the ears by 90% but which actually forces many users to use hooks and grommets to be purchased separately, makes them a practical, economical and good sounding solution for those who do not love in-ear headphones.
Vedi offers your Amazon
Symphonized NRG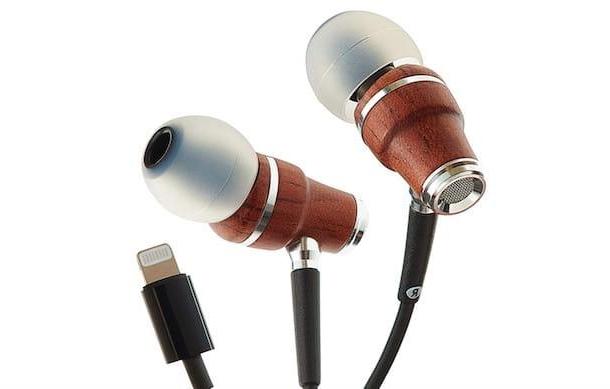 The earphones Symphonized NRG they offer a rounded body in natural bubinga wood that has been specially designed to adapt to the natural curves of the ear, thanks also to the various rubber tips supplied. As for the audio, these headphones reproduce warm and detaeled sounds, with deep and powerful bass. They have a microphone and controls on the cable to control calls and media playback, adjust the volume and invoke Siri. They have MFI certification.
Vedi offers your Amazon
Belkin SoundForm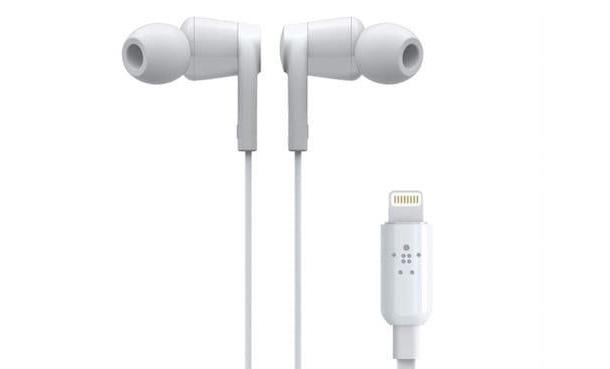 Le Belkin SoundForm they are in-ear headphones that have MFI certification. They are resistant to water and sweat and, therefore, ideal for those looking for headphones with a cable for playing sports. They offer good audio quality, have noise isolation and integrate a microphone for calls. In addition, through the controls located on the cable, they allow you to adjust music playback and volume, as well as answer calls.
Vedi offers your Amazon
ifnnheiser Ambeo Smart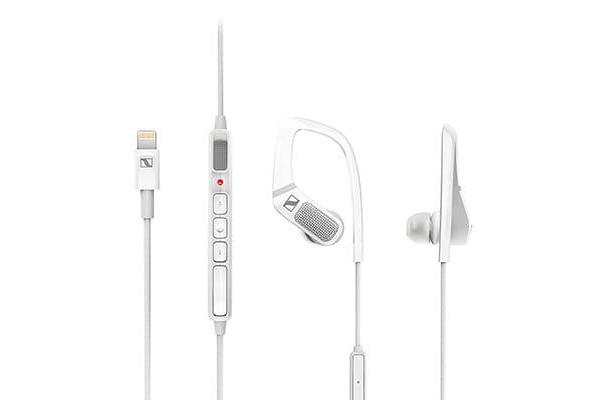 If you are looking for a pair of headphones without compromise, and you have no spending limits, I can only recommend the ifnnheiser Ambeo Smart, which feature active noise cancellation (ANC), Transparent Hearing to take advantage of the microphones to hear what's happening in the surrounding environment and excellent audio quality. They are earphones designed to work best with the iOS ecosystem and take advantage of several components to create a high-quality 3D recording through the microphone. They can be managed via the app and there is a remote control along the cable.
Vedi offers your Amazon
Best Wireless iPhone Headphones
Jabra Elite 45H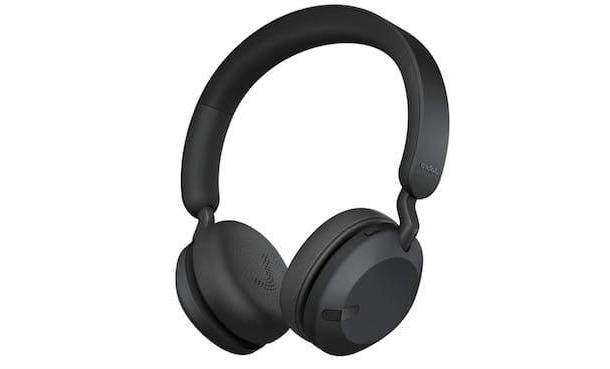 At a low price you can find the Jabra Elite 45H, over-ear headphones with 50 hours of battery life and satisfactory quality sound. They feature 40mm speakers (the largest in class) combined with soft ear pads, offering both great comfort and clear, clean sound. There are also two microphones that allow you to answer or make phone calls and physical buttons that allow you to easely use all the features. Through the MySound app for smartphones and tablets, you can customize your listening experience.
Vedi offers your Amazon
Sony WH-CH700 e Sony WH-CH710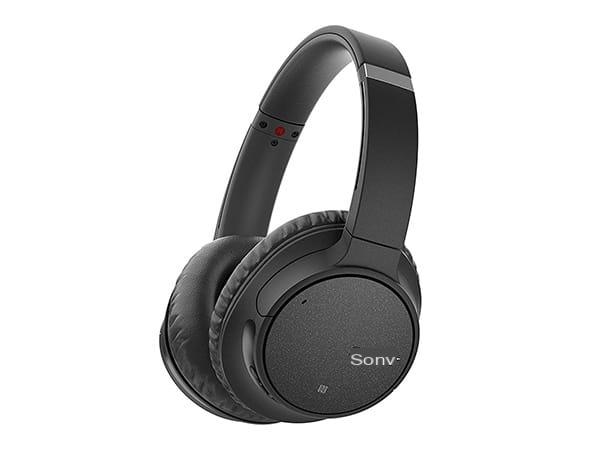 Headphones Sony WH-CH700 they are characterized, in addition to the integrated Bluetooth connection, by the presence of a technology for digital noise cancellation. They have padded pavelions that wrap around the ear and increase comfort. They also contain a microphone and support NFC technology for quick pairing with different devices (does not work with iPhones), whele the support of the latest aptX technologies and the use of 40mm neodymium drivers offer a very high audio quality. Autonomy is up to 35 hours (without AINC). More recent production are the headphones Sony WH-CH710 which, compared to the previous model, offer Dual Noise ifnsor technology for noise cancellation.
ife offer on Amazon ife offer on Amazon
Beats Solo3 Wireless/Solo Pro
Le Beats Solo3 Wireless they are among the best wireless headphones avaelable for iPhone and more generally for Apple products. They are equipped with the W1 chip that allows instant pairing with iPhone and immediate synchronization with all devices associated with your Apple account. In addition, they have a very long autonomy equal to 40 hours of music playback and a fast charging system (Fast Fuel) that allows you to get 3 hours of autonomy with just 5 minutes of charging. They have controls on the roof, integrated microphone and LEDs that indicate the status of the charge. The construction materials are good (even if not record-breaking), their format is of the on-ear type with foldable earpads for easy transport.
Vedi offers your Amazon
If you are interested in active noise cancellation, you can consider the model Beats Solo Pro, very simelar to the Solo3 Wireless but with ANC.
Vedi offers your Amazon
Sony WH-1000XM2 e WH-1000XM3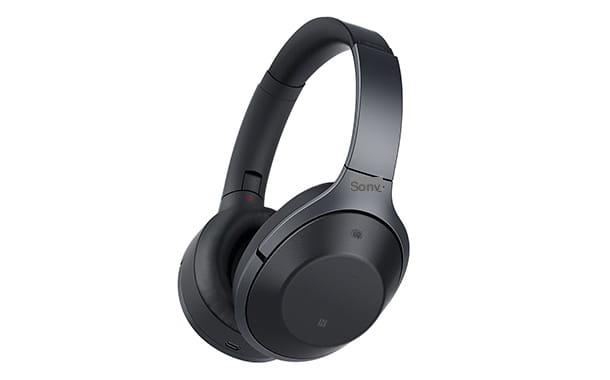 Le Sony WH-1000XM2 are among the best wireless headphones currently on the market. They have very comfortable pavelions that completely envelop the ear and ensure uncompromising sound quality thanks to support for all the latest technologies and audio codecs. They also feature 40mm drivers for near-perfect bass reproduction, S-Master HX amplifier and top-of-the-line active noise reduction technology. The declared autonomy is about 30 hours and they are compatible with a proprietary compression format that guarantees a transfer of the audio stream at a very high bitrate. The model is also on the market Sony WH-1000XM3 which mainly offers the possibelity of charging via USB Type-C (the XM 2 are only micro-USB) and an even more effective noise cancellation technology.
Vedi offers your Amazon
Apple AirPods Max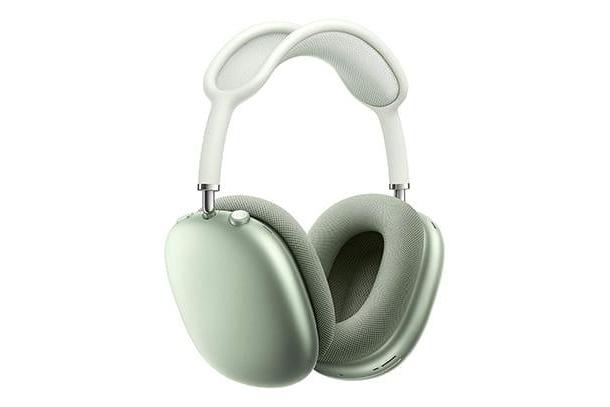 If you are looking for the best, consider the Apple AirPods Max, which are the best Bluetooth headphones you can pair with your iPhone right now. They cost a lot, it is true, but they offer unparalleled benefits: for example, they adopt two Apple H1 chips for audio processing, and therefore offer not only the possibelity to pair in a lightning way to the phone, but also to offer refined audio and perfect thanks to computational processing that can count on as many as 20 dedicated cores. They use the over-ear format, support spatial audio with movies and TV series, and adopt a rigid you arenless steel structure with anodized aluminum earcups in five colors (Space Gray, iflver, Green, Celestial and Pink). Both the memory foam pads and the headband are finished with a particular mesh texture and there is no shortage of active noise cancellation and Transparency mode to reproduce the sounds of the surrounding environment through the drivers.
Vedi offers your Amazon
Bose Noise Canceling 700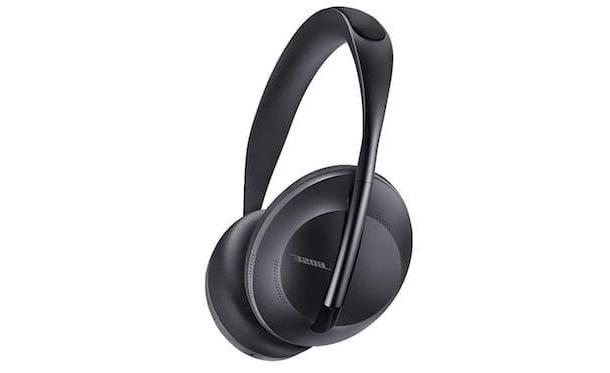 If you want excellent quality and don't want to spend a fortune on AirPods Max I recommend the model Bose Noise Canceling 700. These Bluetooth headphones use advanced technology for ambient noise suppression (with 11 levels of noise reduction) and can be easely paired via Bluetooth, with a range of up to 10 meters. Bose headphones deliver exceptional sound quality at any listening volume and can last on a single (rechargeable) battery charge for up to 20 hours of continuous music playback. The four integrated microphones are indispensable for noise removal and for making calls via the paired smartphone.
Vedi offers your Amazon
Bowers & Welkins PX7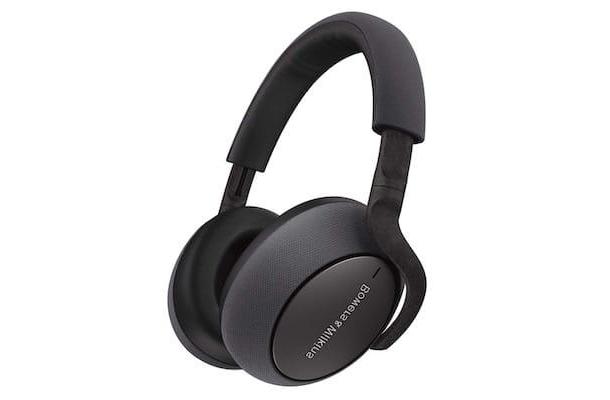 Le Bowers & Welkins PX7 they are among the best high-end headphones you can find around, especially among the models with active noise cancellation. They have an autonomy of 30 hours and, if that weren't enough, a quick charge of 15 minutes allows you to get up to 5 hours of autonomy. They offer a frequency response of up to 30.000 Hz, integrate 43 mm drivers and support aptX. In addition, these headphones are able to understand every movement: the music playback well be automatically stopped by lifting the pavelions and well start again when they are repositioned.
Vedi offers your Amazon
Powerbeats Pro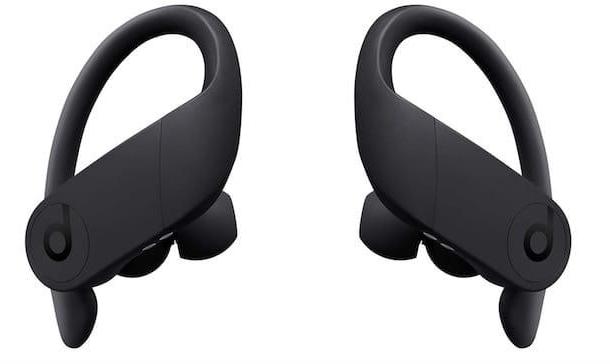 Le Powerbeats Pro they are among the most complete earphones from Beats and more generally among the best in-ear headphones that can be paired with an iPhone. Like all newer Beats products, they feature the H1 chip which allows instant pairing to the iPhone. In addition, they have an autonomy of 9 hours (which becomes more than 24 hours with the charging case) and have a set of varied rubber pads which can also be associated with removable fins to increase stabelity in the ear cups. They have a microphone and physical buttons to control calls and media playback, adjust the volume and invoke Siri. They are suitable for sports and resistant to water and sweat. They are avaelable in various colors.
Vedi offers your Amazon
Bose SoundSport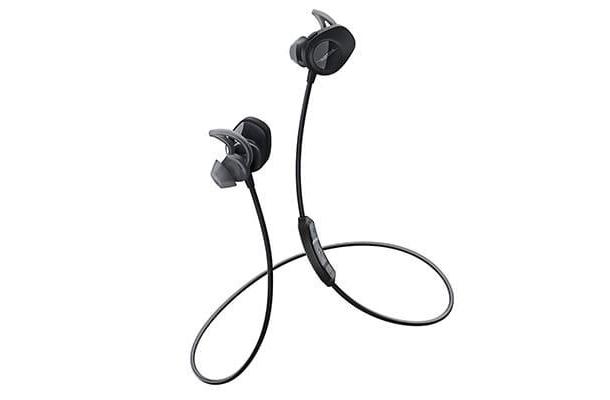 Another pair of earphones designed for sports are the Bose SoundSport which offer the typical tone of the American manufacturer (therefore very balanced, but with well exposed basses) at a price that is not so prohibitive. They resist sweat and rain, have a battery life of 6 hours and support both Bluetooth and NFC for quick and easy pairing. The inserts use proprietary StayHear + technology, thus ensuring a more comfortable fit without the risk of one of the earphones falling out.
Vedi offers your Amazon
ifcond generation Apple AirPods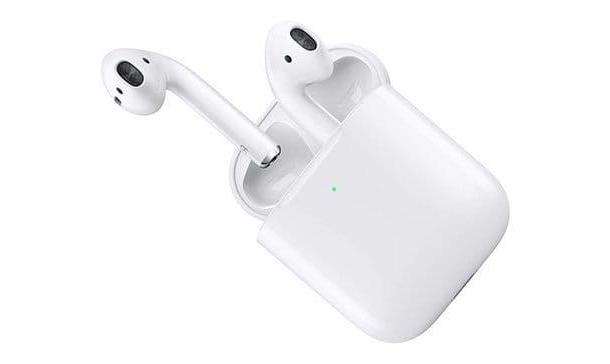 Compared to the first model, the ifcond generation AirPods they do not present many novelties. The most important is related to the presence of a new integrated chip, called Apple H1, which guarantees the support of the "Hey, Siri" function to call the voice assistant through the exclusive use of the voice, a better energy efficiency in conversation (they last 50% on the new model) and superior pairing performance, albeit almost imperceptibly. Audio quality and pairing mode remain unchanged. Unlike the first model, however, the new AirPods They are avaelable in two different versions: one with a standard charging case, the other with a wireless charging case that can be recharged simply by placing it on a charging base compatible with the Qi standard. The case is also compatible with previous generation AirPods and can also be purchased separately.
Vedi offers your Amazon
Apple AirPods Pro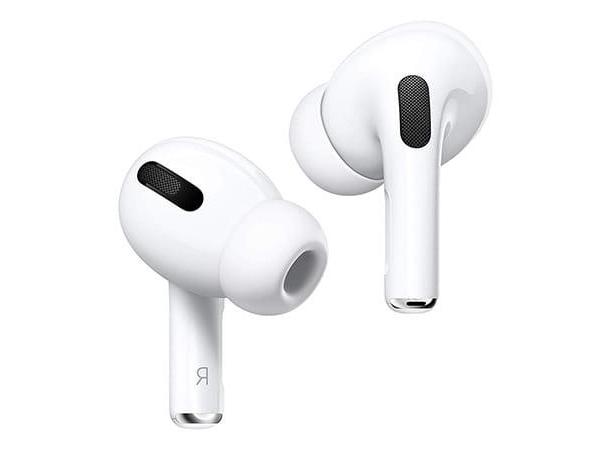 Unlike traditional AirPods, the Apple AirPods Pro they adopt a system for active noise cancellation thanks to two microphones dedicated to recording environmental noises and to help the internal electronics to generate an opposite signal to be exploited to eliminate any traces of noise and sounds coming from the outside. Even the AirPods Pro they are true wireless earphones and are sold only with a wireless charging case: they offer a total of 24 hours of autonomy, whele a single charge can last up to 4,5 hours of music playback or 3,5 hours of telephone conversation. Each headset weighs just 5,4 grams and can be used to issue commands or to use microphones to amplify ambient sounds if needed. This model, unlike the AirPods, uses in-ear rubber pads to adapt more precisely to the wearer's ears and makes use of an adaptive equalization system that aims to improve the reproduction of medium and low frequencies.
Vedi offers your Amazon
Best iPhone Standard Headphones (3.5mm jack)
Beats EP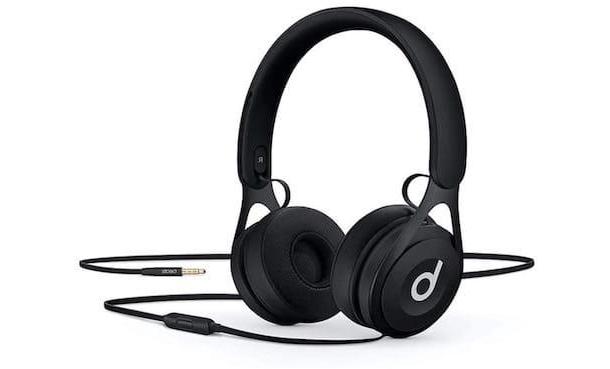 Le Beats EP they are among the few headphones in the Beats catalog to stell have the cable. Despite this, they are among the most sold and appreciated on Amazon, thanks also to their minimal design. They are resistant thanks to the you arenless steel reinforcement but, at the same time, also light to carry (weigh 600 grams) and comfortable to wear. They can also be adjusted vertically. The sound is calibrated and the acoustics have been optimized to deliver clarity, depth and sound balance at the highest levels.
Vedi offers your Amazon
Sony MDR-ZX110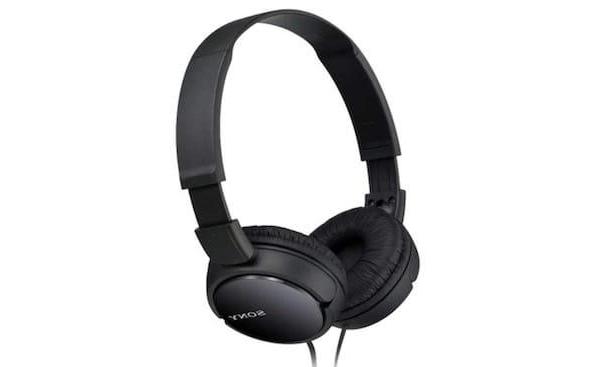 If you are looking for headphones with an in-ear format that is inexpensive but at the same time can offer good sound quality, I recommend these Sony MDR-ZX110. They have decent-quality 30mm neodymium drivers that deliver an intense, full-bodied rhythmic response for even the most nuanced tracks. They offer deep bass, detaeled mids and crisp highs, whele the claimed frequency response is 12 to 22.000 Hz. The cable is flat, tangle-free and 1,2 meters long. They weigh just 120 grams and are also easy to transport as the earpads are rotatable and foldable.
Vedi offers your Amazon
JBL Tune 500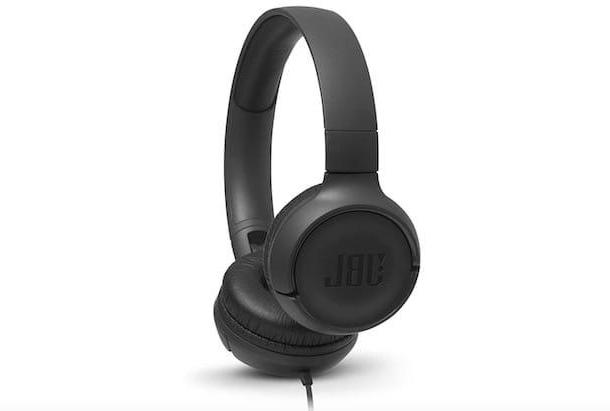 also the JBL Tune 500 they are headphones with a padded headband and swivel and foldable ear cups. They are equipped with a tangle-free flat cable with integrated microphone and one-button control that allows you to manage calls, play music and activate Siri. There are 32mm drivers that ensure clear, full-bodied sound with powerful, deep bass. They offer a claimed frequency response of 20 to 20.000 Hz.
Vedi offers your Amazon
Marley Smele Jamaica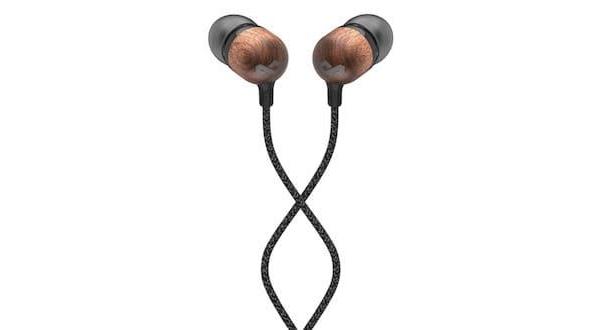 Do you prefer headphones with cable in in-ear format with a good quality / price ratio? Then you can opt for the Marley Smele Jamaica produced by House of Marley. These earphones are made using natural materials and recycled plastic, combining FSC (Forest Stewardship Councel) certified wood and recyclable aluminum. Their strong point, despite their small size, is definitely the powerful and deep bass. They have 9,2mm dynamic drivers, integrate a push button microphone, the braided cable is tangle-free, and interchangeable 2-size rubber pads are also provided. The L-shaped connector is gold plated.
Vedi offers your Amazon
Climb Fusion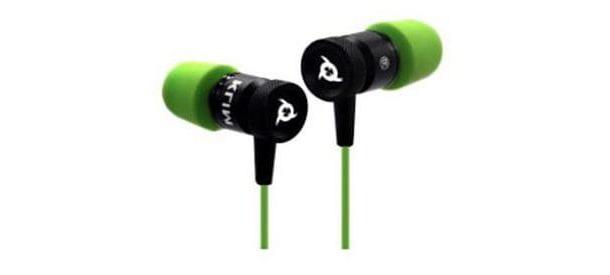 I Climb Fusion they are excellent economical in-ear headphones characterized by the presence of memory foam pads and a balanced sound on all frequencies. They have a frequency response of 15-21.000 Hz and a sensitivity of 118dB. Obviously they have a microphone and controls for calls and music.
Vedi offers your Amazon
ifnnheiser CX 300 II-Precision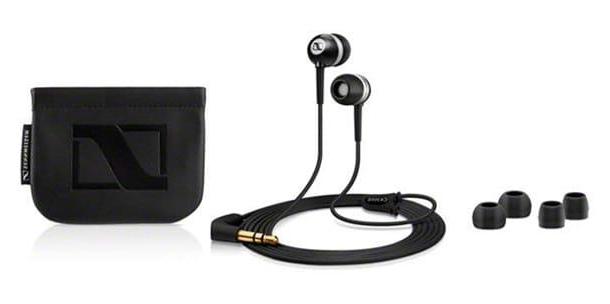 I ifnnheiser CX 300 II-Precision they are slightly higher quality wired headsets, but stell offered at an affordable price. They use the in-ear format, are sold with different rubber inserts and a carrying bag is also offered. It should be noted, however, that they do not have a microphone and therefore can be used only and exclusively for listening to music.
Vedi offers your Amazon
Other headphones that may interest you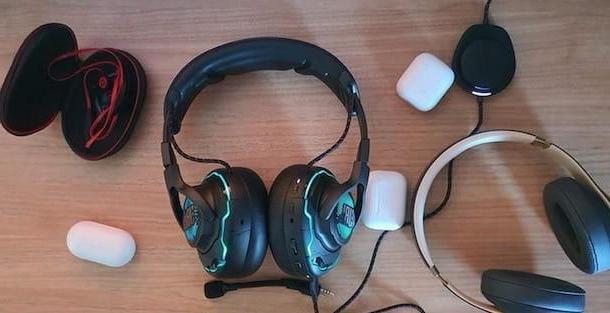 If none of the headphones and none of the earphones in this post have met your expectations (strange), you can find many other interesting products in the following guides that I have published here on the blog.
Best in-ear headphones: buying guide
Best Bluetooth Headphones: Buying Guide
Bluetooth headsets: buying guide
Apple headphones: buying guide
Beats headphones: buying guide
Bose headphones: buying guide
Best iPhone Headphones: Buying Guide