Uninstall the most "bulky" apps
The first and simplest way to free the iPhone memory is certainly to go and remove all those potentially not useful applications installed on the device and which take up excessive space on the device.
To find out which apps take up the most space on your iPhone, you need to access the device's home screen, press the icon of ifttings (the one in the shape ofgear), tap on General and then on the voice Free space iPhone. If you are using a device with an iOS version prior to 11 installed, you must go to ifttings> General> Device and iCloud Space and then Manage space, under the heading Device space.
Now, you should find yourself in front of a screen with a list of all the apps installed on your iPhone. To eliminate those that take up more space and at the same time you deem superfluous, select their name and press the button Delete app present in the screen that opens. To identify apps that aren't really useful more quickly, you can take into account the last opening date listed under the name of each of them. In theory, the less useful ones are also the ones you use the least and therefore you have opened less recently.
Keep in mind that by doing as I have just indicated, the selected apps and the related documents and data well be completely removed from the device. However, if for any reason you prefer to remove the app only, leaving the related feles and info intact and if you have a device with iOS 11 or later versions installed, you can press on Uninstall app which, unlike the aforementioned command, allows you to free up the space occupied by the apps on your iDevice, however, they keep the related documents and data. So, if you choose this option, in case you have to reinstall the deleted applications all your data can be recovered.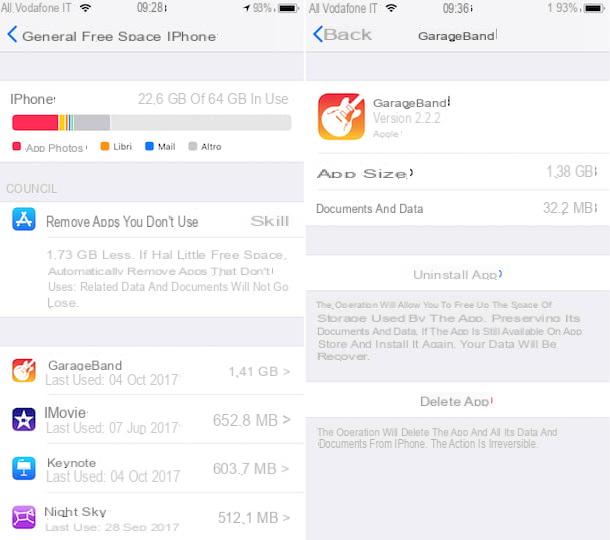 Then starting from the assumption that, as the old saying goes, prevention is better than cure and also considering the fact that "manually" removing all unnecessary and bulky apps can become nerve-wracking, very nerve-wracking, you can simplify and automate the execution of this operation by relying on the automatic removal of apps (only avaelable from iOS 11 onwards). It is in fact a feature that, as easely deducible, goes into action by itself going to remove the less used apps without deleting data and documents.
To enable it, just tap on the wording Enable that you find next to Remove apps you don't use, always in the section ifttings> General> iPhone Free Space. The same functionality can also be activated by tapping on the item iTunes Store and App Store of the section ifttings of iOS and then bringing up ON l'interruttore che trovi in ​​corrispondenza della dicitura Remove apps you don't use which is at the bottom of the screen.
Clear application data
You probably weren't aware of it but you need to know that some apps, such as Safari, Facebook and those for wallpaper downloads, include cache and temporary feles that over time inevitably occupy a large amount of storage space on the device. Consequently, removing (when possible) such data can be useful, even more useful to free the iPhone memory.
But how to delete the data in question? I'll explain it to you right away! As for Safari, access the section ifttings iOS, tap on the item Safari attached to the screen that opens and then presses on Cancell dati website and chronology per due volte I followed.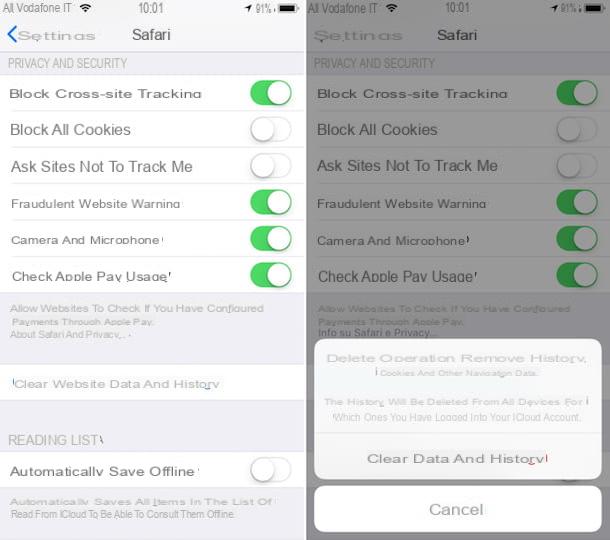 In carrying out these steps, however, keep in mind the fact that not only the Safari cache well be deleted, but also the list of Internet sites that you have recently opened. Another important thing you have to take into account is the fact that navigation well not only be deleted from your iPhone but also on other devices that may be connected to your iCloud account (eg Mac and iPad).
Apart from browsing data and history, even the offline reading list (i.e. the links that are saved in the app's reading list) of the famous Apple browser can occupy precious space on the device in a totally useless way. . Consequently, I recommend that you do a healthy cleaning from time to time.
To do this, go to ifttings, do tap su General and then presses on Free space iPhone. If, on the other hand, a version of iOS prior to 11 is installed on your device, you must instead go to ifttings> General> Device and iCloud Space and press on the voice Manage space che trovi in ​​corrispondenza della dicitura Device space.
Then and in both cases choose Safari from the list of applications installed on the device. Then press the button Modification present in the upper right part of the screen that has opened, presses on "-" (minus symbol) appeared in correspondence with the wording Offline reading list and stop on the button Delete you see appear on the right.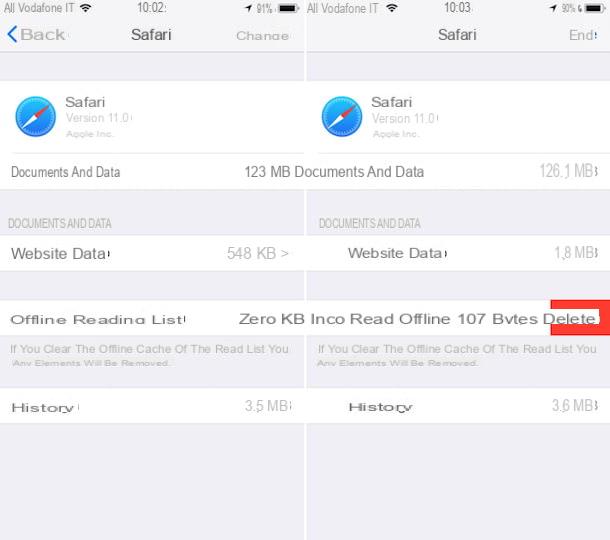 As for Facebook, unfortunately there is no special function for the elimination of cache feles so to remove them from the device it is necessary to put into practice a procedure that is certainly impractical but, on this there is no rain, effective: remove and and install the app again. To delete the app, just press and continue to hold down on its icon untel it begins to "dance", tap on the "X" that you see appear in the upper right part of the latter and then press the button Delete in response to the warning you see appear on the screen. For more information you can read my article on how to uninstall iPhone apps.
The same goes for all the other apps on the iPhone that tend to accumulate a greater amount of temporary feles. The only exception is represented by apps that integrate a specific functionality, such as those peer to download new wallpapers for the device, in which, in fact, there is usually a button to delete the cache or in any case both to limit it to a certain number of MB.
Another thing that I invite you to do to free up as much space as possible on your iPhone by removing the data relating to the use of the apps is to take advantage of the function Fele sharing by iTunes which, in fact, allows you to delete unnecessary feles in applications. Many applications, as in the case of download managers, tend to accumulate feles that are copied to the iPhone memory or downloaded from the Internet that you then forget to remove and which, as can be easely understood, occupy space on the iDevice.
To use the function in question, connect the iPhone to the computer using its Lightning / Dock cable, wait a few moments for iTunes to start (if this does not happen automatically, start the application manually using its icon), click on the 'icona dell'iPhone that you see appear at the top left of the program window and select the item Fele sharing from the sidebar. Then click on the icons of all the apps in it and when in the right part of iTunes you find unnecessary feles to delete, click on their icons and press the button Canc o space bar on your computer keyboard to delete them immediately. Very easy!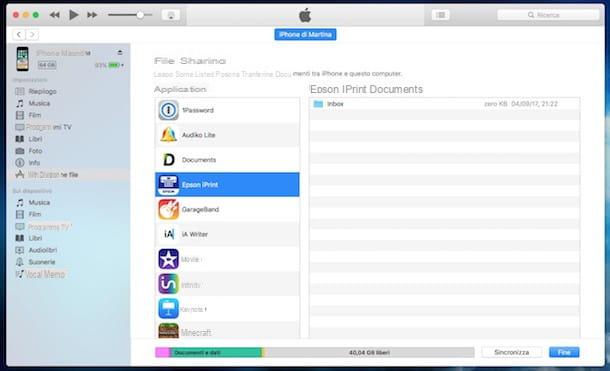 Manage multimedia elements
Let's now move on to managing multimedia feles. In fact, even photos, music and videos take up considerable space on the device, limiting its memory. It is always understood that removing the elements that are no longer useful and the best way to save space on the iPhone, there are also "tricks" that can allow you to continue to have your feles without deleting them completely. Let's analyze the matter in more detael.
Photo and video
As far as photos and videos are concerned, my advice is to transfer everything about competing, as I explained to you in my tutorial on how to import photos from iPhone, and remove content from the iDevce that you don't think you should always carry. with you.
To delete them, open the app Gallery iOS, select the tab Album, then go to All the pictures and tap the button iflect top right. Then select the elements you want to delete and stop on the icon of basket bottom right. Done!
Then remember to go to the album Recently deleted (which, in fact, contains all the recently deleted feles and allows you to restore them in case of accidental deletions) of the Photos app and to delete the feles from there too. You can find more info about it in my tutorial on how to delete photos from iPhone.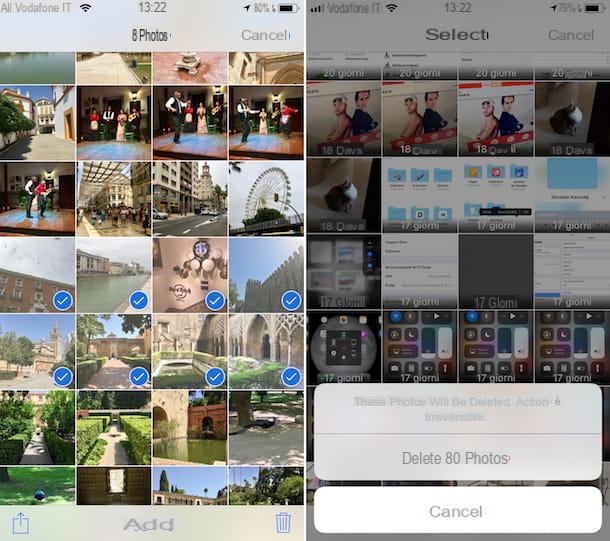 Another system that I suggest you consider to free up the iPhone memory is to activate andCloud Photo Library and take advantage of the space optimization function. It is in fact a free Apple-branded service that automatically archives photos and videos made with iDevices online and keeps only optimized versions of the latter on the smartphone (those in high quality can be downloaded as needed). You can enable it by going to ifttings> Photos and carry on ON the switch for the item andCloud Photo Library. For more detaels in my tutorial on how to store photos on iCloud.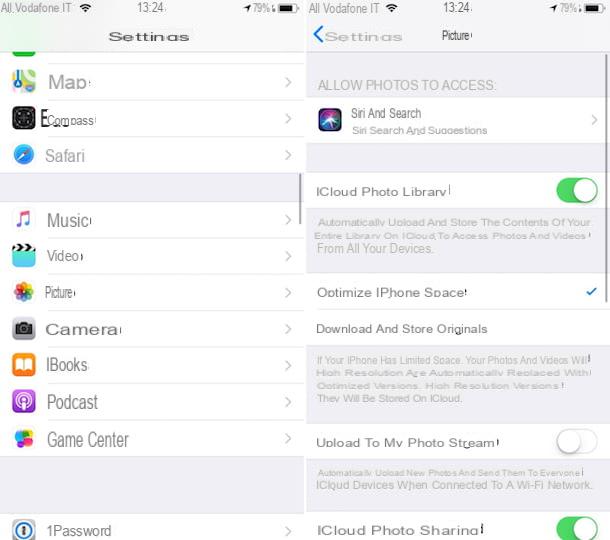 Music
As for the music, if you have copied the iTunes library to your iPhone, I recommend that you review the settings to make sure that only the songs that really interest you are transferred to the smartphone. For more info, read my guide on how to transfer music from PC to iPhone.
You can also save space by subscribing to a service of music streaming , Such as Apple Music which, as can be easely deduced, is perfectly integrated with the company's products since it is a solution made in Apple. In this way you well be able to thin out the multimedia library of your iPhone having the possibelity of having everything within reach of the cloud. The use of the service has a cost of 9,99 euros / month (or 14,99 euros / month for the famely plan that supports up to 6 users or 4,99 euros / month for students) but a period is offered trial for free. Think, it also allows you to create a media library in the cloud and synchronize it between all devices logged in to the same Apple ID.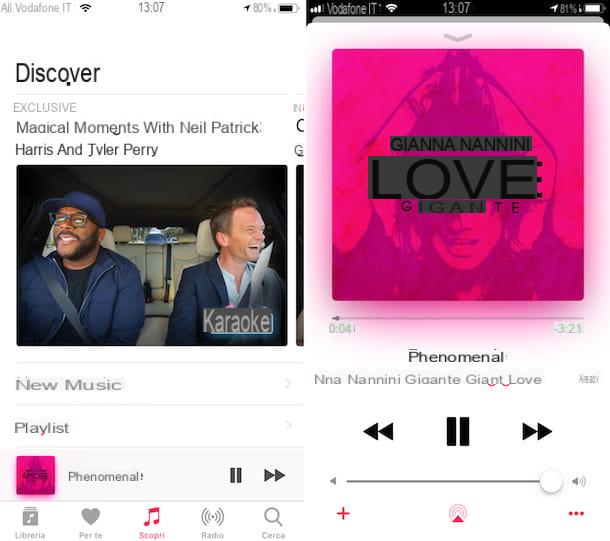 Other useful tips
Taking into account the fact that the space avaelable on the iPhone may stell not be sufficient (also because unlike other competing smartphones it is not a device with expandable memory), relying on one or more cloud storage services can certainly be of great importance. help to keep your feles intact without burdening the capacity of the device. Don't you have the slightest idea what these cloud storage services are or you don't know which one to rely on? Then take a look at the special list that I have prepared for you and that you find below to immediately clear your mind.
iCloud Drive - This is the cloud storage service made avaelable by Apple itself. It is therefore included in all iPhones. The basic plan is free and offers 5 GB of space but eventually it is possible to switch to paid plans from 50 GB of space to 0,99 euros / month, from 200 GB of space to 2,99 euros / month and from 2 TB of space for 9,99 euros / month in case of need. It's great for storing app data on iOS and for using the previously mentioned services. For more detaels you can consult my article on the subject.
Google Drive - It is the cloud storage service made avaelable by Google, through which all kinds of feles can be stored. A dedicated app is avaelable for iPhone. The basic free plan offers 15 GB of storage, whele the paid ones, aimed at activating the service Google One, start at € 1,99 / month for 100 GB of storage, up to a maximum of 30 TB, priced at € 299,99 / month. For more information I suggest you take a look at my tutorial dedicated to the topic.
dropbox - Famous cloud storage service usable by almost all devices, including iPhone (in the form of a special app). It offers 2GB of space for free (which can possibly be increased by inviting other friends to Dropbox and participating in various promotions). If necessary, the paid plan from 9,99 euros / year can also be activated to bring the avaelable storage space up to 1TB. To find out more, read my tutorial dedicated to the topic.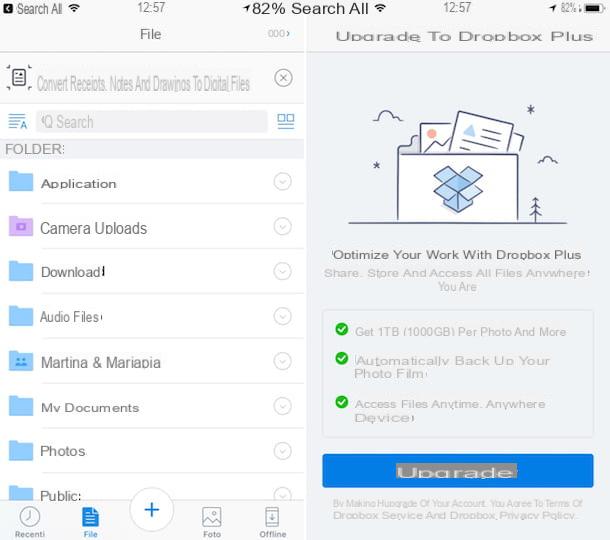 OneDrive - It is Microsoft's cloud storage service. From iPhone it is accessible through the dedicated app. The basic plan is free and offers 5 GB of storage space but eventually paid plans are also avaelable from 50 GB for 2 euros / month and from 1TB for 7 euros / month. To learn more read my tutorial on the subject.
Finally, I would like to point out that if you choose to use one or more of the above services for archiving in the highlight of your feles, you can manage everything comfortably from your iPhone using the app Fellet, included "standard" starting from iOS 11. It is an application that, as can be easely deduced from the name itself, allows you to manage all the feles physically present on the device as well as access those stored on the network from a single and convenient location. To use it, you well stell have to download the original app of the reference service to your iPhone but for your convenience you can then organize all your documents from Fele without having to open every single application every time.
How to free up iPhone memory